Wer mich kennt, der weiß:

Ich bin ein unternehmungsfreudiger Kerl mit einer ausgeprägten Leidenschaft für meine Heimatstadt und To-do-Listen. "Alright", werdet ihr euch nun vermutlich denken. "das freut uns ja sehr für dich. Aber weshalb gleich einen Artikel darüber schreiben?"

Hier kommt eine alte Bekannte aus meiner Schulzeit ins Spiel. Diese ist zwischenzeitlich nicht nur groß geworden, sondern auch auf die pfiffige Idee für einen ganz besonderes Poster gekommen. Ihr wisst schon, diese Dinger, die ihr früher aus der BRAVO gerissen und über euer Bett gehangen habt! Dieses hier kombiniert jedoch praktischer Weise meine beiden Leidenschaften mit meiner Unternehmungslust und ist obendrein ein echter Hingucker.
Könnt auch ihr über euch selbst sagen: "I love to do!"?
Na denn Obacht!
Ein Poster, zehn Mal Lebensfreude: Ein Muss für Urgesteine und Eingeplackte
Ihr kennt das: Da ist man neu in einer Stadt, findet mit Ach und Krach den Weg zur Arbeit – und bestenfalls auch wieder zurück. Ansonsten aber gleicht die neue Heimat einem Labyrinth aus U-Bahnhöfen, Häuserzeilen und Einkaufspassagen.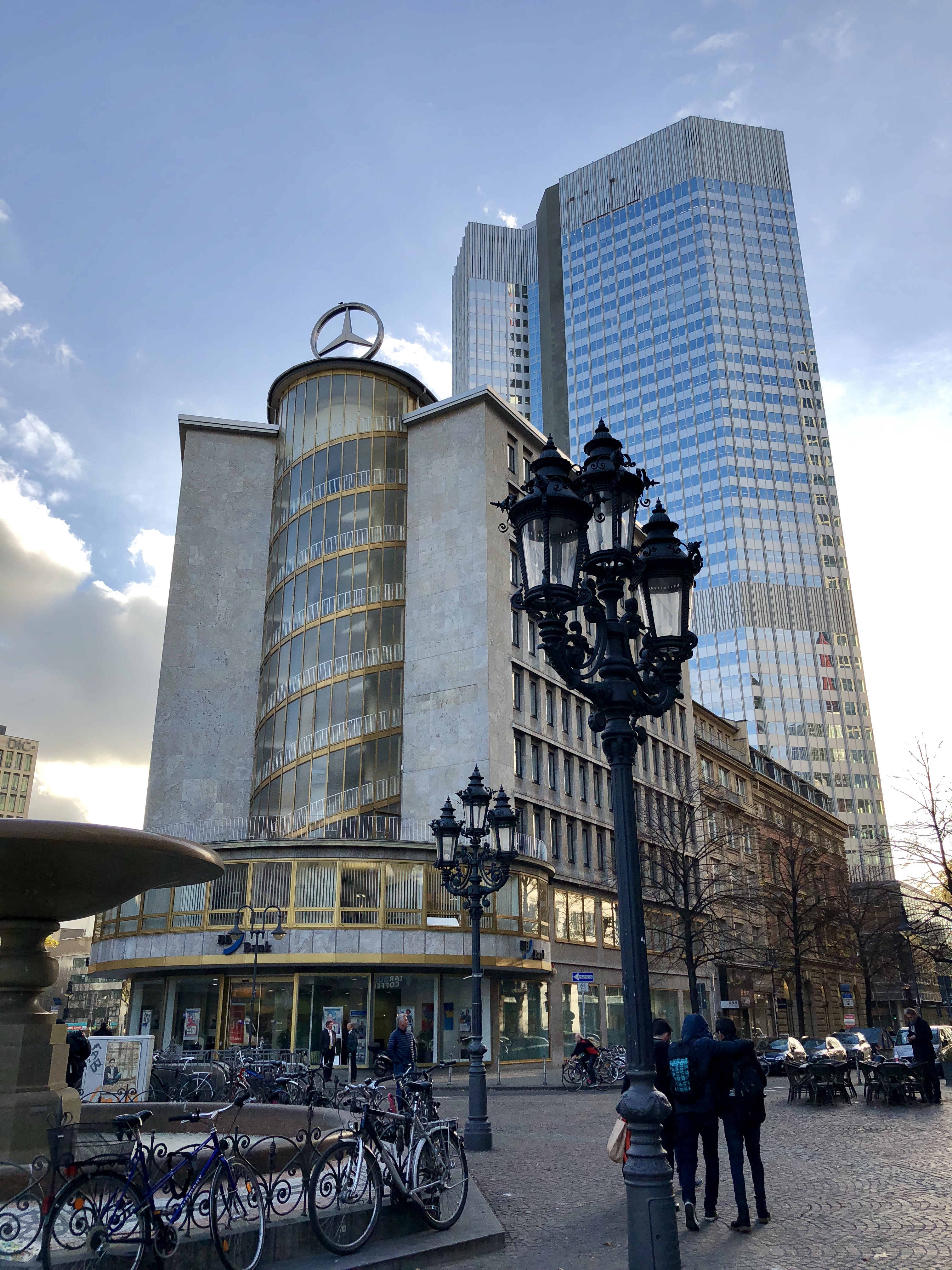 Auch für längst "eingeplackte" Frankfurter gleicht die eigene Stadt oft einem Flickenteppich – bestehend aus Wohnung, Arbeitsplatz, Zeil und der Lieblings-Kneipe mit dem günstigen Export. Und ansonsten gibt's die Couch. Das ist zwar sehr bequem, aber in etwa so spannend wie die Wiederholung einer Folge der "Schwarzwaldklinik".
Wie also aus diesem Trott ausbrechen und die schönsten Flecken der Stadt abseits der Alltags-Stationen entdecken?
Ein Poster schafft Abhilfe!
Mit einem Poster von I LOVE TO DO ist genau das endlich kein Problem mehr. Denn nicht nur, dass das klassisch-zeitlose Motiv unserer Skyline echter Eye-Catcher für eure übertrieben teure Bude ist, auch liefert es euch gleich zehn Ideen für neue Entdeckungen in allen Lebenslagen. Ob Hunger, Durst oder die Lust auf Grün: Die Macher haben für euch zehn "Must-do's" auf das Poster gepackt, welche auch eingefleischte Frankfurt-Fans wie ich bedingungslos unterschreiben. Ich will ja nicht spoilern, aber: Oh ja, das Poster weiß ganz genau, wo ihr Frankfurt erst so richtig lieben lernen könnt!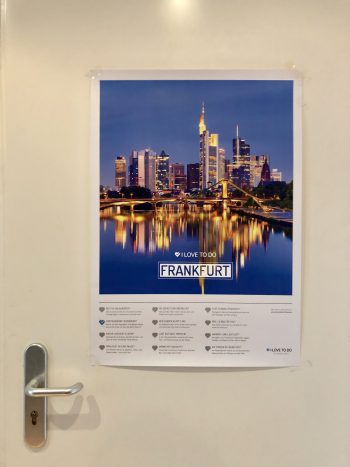 Der Clou an der Sache:

Abhak-Junkies wie ich können nach jedem Erlebnis ein zugehöriges Herz freirubbeln. So habt ihr perfekt im Überblick, was ihr schon unternommen habt – und welche Überraschungen eure Lieblingsstadt noch für euch bereithält.
Außerdem sorgt das A2-Poster für neidische Blicke bei euren Besuchern und für viele Möglichkeiten, diese zu bespaßen.
Mainrausch-Fans sparen Geld
Worauf also noch warten? Sicherlich habt ihr noch eine weiße Wand, einen Kleiderschrank oder eine Küchentür, die so sehr nach neuer Deko lechzt wie ihr nach frischen Ideen für Unternehmungen.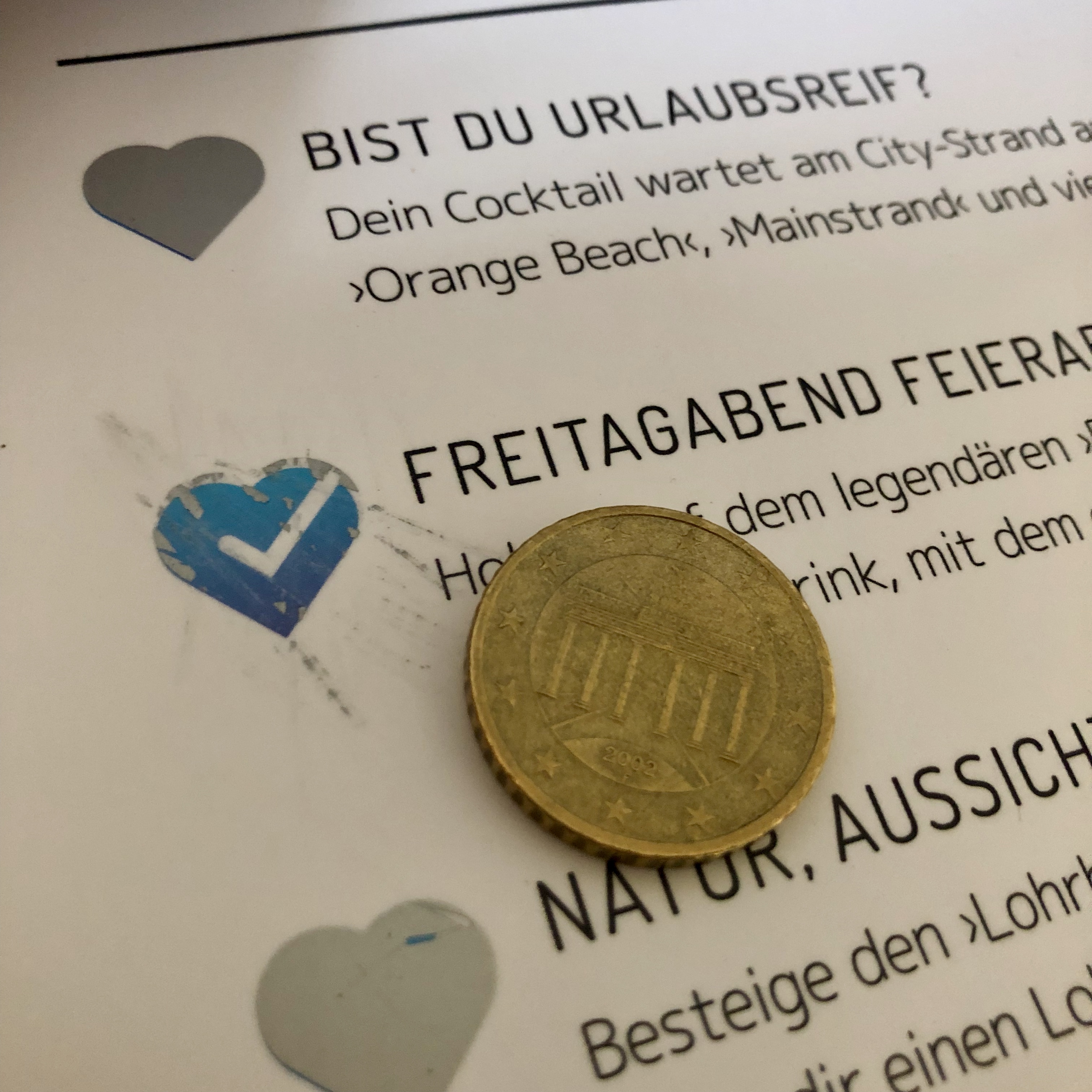 Das Beste zum Schluss:

Wenn ihr euch jetzt dazu entschieden habt, eure neue Heimat kennen zu lernen oder eure längst in euer Herz geschlossene Lieblingsstadt neu zu entdecken, dann könnt ihr bares Geld sparen! Oder aber ihr seid auf der Suche nach einem tollen Geschenk? Et voila, hier habt ihr eines!


Ein Klick auf diesen Link, und das Poster macht sich für einen um zehn Prozent reduzierten Preis auf seinen Weg zu euch.
Ich wünsche euch schon jetzt ganz viel Freude beim Staunen, Entdecken, Bewundern und Genießen!